Athletes with the Performance Edge!
Mitch i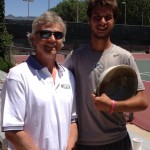 s an athlete experiencing success using the Performance Edge Mental Coaching Program.  He was the winner of the NM Adult Open & Grand Prix Tennis Tournament in the Men's Open division.  He played a great tournament dropping only 8 games in 4 matches!  Having had a chance to watch his games, he demonstrated many examples of Mental Toughness and Focus in dominating the tournament.
Mitch was able to maintain or re-gain his composure whenever he noticed himself beginning to lose focus.  He was aware of when his attention wandered to outcomes and winning or losing.  Each time he was faced with a challenge based on the score, his opponents behavior, terrible windy conditions or fatigue, he would take the time to get back on track and perform at a high level.
His mental toughness was noticed by opponents and spectators alike who commented on his composure.  He rarely missed open opportunities to finish a shot.  Lobs were like low hanging fruit to him which he promptly smashed!  He demonstrated the power of mental toughness and focus.
In watching the matches, the mental toughness and focus of other players was obvious in their tactics, body language and shot selection.  As Mitch pressed his opponents and stayed focused on his game and his shots, his opponents resorted to different techniques to try and distract him.  While these tactics did on occasion lure him in, he was always able to notice it, refocus and commit to his game plan.  The result was his opponent would usually commit errors such as double faults, wild shots, miss hit shots etc. These errors all seemed to come after he was able to get back to his game plan.
These concepts are the heart of Mental Coaching with Performance Edge Coaching Programs.  The ability to manage your mental game and play with mental toughness and focus determines your experience with a match.  Mitch has worked hard on his technical game of tennis and has now worked hard practicing and learning about his Mental Game.  He has taken the steps necessary to move himself to the next level of tennis where he dominates matches that he would previously get distracted and struggle.  Old tricks that once got him to lose focus no longer work.  Or, more importantly, he catches himself when his mind begins to wander to thoughts that are not going to help him play great tennis and have fun on the court.
If you want to be part of the team that gets the Performance Edge through Mental Toughness and Focus, contact Mark and see if he can be your Mental Coach too.
Are you willing to learn?  Are you committed to your game?  Do you want to take the next step with your game?  These are the simple prerequisites to work with Mark and develop your competitive advantage!
You can reach Coach Walch at 505.271.4699 or email him at: Mark@sportspsychologyedge.com to schedule a consult.  Why wait until your frustration gets any higher?  Call today!